Offshore Development Centre – Bright Soft Infotech ODC
Please find below the process Bright Soft Infotech ODC-Fixed Price follows: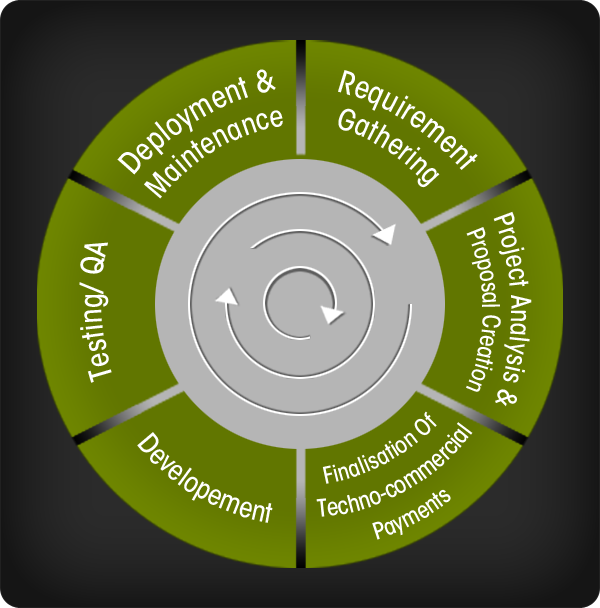 Requirement Gathering Stage
Client (you) have to provide the basic idea and details about the project, if you have any documents it will be great. Requirement gathering can be through two ways:
Client sends us the detailed requirement document
Calls and speaks to our business analyst and explain the requirement
Project Analysis
Our Business Analyst analyze the project in detail and ask for queries if any. We will provide you with an approximate cost and time for the project.
Proposal Creation
If the cost and timelines are within your limits, we will provide you with a detailed proposal, mentioning Statement of Work, Technologies we will use, Requirements for the project, what we will provide as a solution and other Terms and Conditions.
Finalization of Techno-commercial Payments
The quote has to be approved from your end and a PO has to be sent, we will get a Service agreement signed. Also if you want us to sign NDA, we are open to it. We will provide you with the milestone for the task to be completed and by which date.
Development
Once development has been started, we will provide you with periodical updates as and when required. Generally we prefer a weekly update method if the project is of long-duration. Link of the project on our server will be available wherein you can see the project developed till date.
Testing/QA
Once the project is developed we will do the initial level of testing. In case you see any bug, you can always come back to us and get it resolved within 30 days of delivery of project.
Deployment
Once you are satisfied to see the entire project on our server, a final payment has to be made by you after which project will be deployed on your server and source code will be delivered to you. In case at any point of time, whether in between or after the project is over, you want to add any functionality the same can be done at extra cost. If it's a small change it can be done free of cost too.
During the entire process your point of contact will be someone from the Business Development team. You can have skype chats or calls, calls can be made on our office number, if you have any other messenger preference the same can be done. Mobile numbers of BD will only be shared in case of emergencies.
This is the general model we follow for fixed price jobs.
In case you would require an executive to work for you, we will send you the resumes for the candidates and you can take the interview. Once selected we will provide the messenger ids of the resource you have selected and you can directly contact him for the work to be done. We will either charge you on hourly or monthly basis depending on the type of work and your preference.